About Barcelona
Barcelona is one of the top cities in Europe and the world in terms of hosting international conferences. Barcelona is not too big, not too small and everything is close at hand in the city. The city's character is truly Mediterranean, with a cosmopolitan and dynamic spirit.
Visiting the different corners of Barcelona is an authentic journey through time - over 2000 years of history, with Roman ruins, Gothic treasures and surprises from the Renaissance age.
The creative flair of Picasso, Miró, Dalí, Gaudí, Tàpies… is very much part of the city today and this is reflected in the buildings, exhibitions, and the design and art that are found in the most unexpected places.
Barcelona is easy to reach, with excellent air connections to the vast majority of Spanish, European and major intercontinental destinations, and the airport is just 15 minutes from the city centre.
Barcelona has always been a welcoming city. Today there are more than 160 different nationalities there: a melting pot of cultures and languages that make it an example of coexistence and dynamism. Things are always happening in Barcelona!
Climate
Barcelona and its metropolitan area have Subtropical-Mediterranean climate, with mild winters and hot summers. As the congress is taking place in early September, The average daytime temperatures will be around 26°C (that is about 78°F). Whereas, the average minimum temperatures drop down to about 17°C (that is about 62°F.)
Communications
The international calling code for Spain is +34.
Internet access is widely available in Barcelona, and most hotels, apartments and hostels offer free WiFi or wired internet access.
WiFi is available at the congress venue for registered delegates.
Currency, Credit Cards and Exchanging Money
The currency in Barcelona is the Euro (€).
Most of the hotels, restaurants and stores accept credit cards, such as Visa and MasterCard, along with travellers' cheques.
Automated teller machines (ATMs) are in all the major hotels and outside banks.
Foreign currency can be exchanged at savings banks, or 'Caixes" (the opening hours are Monday to Friday, 8.30am to 2pm. Thursday afternoons, 4.30pm to 7.45pm, except June to September) and banks (Monday to Friday, 8.30am to 2pm and Saturday, 8.30am to 1pm, except during the summer).
Customs
In Barcelona, like in the rest of Spain, lunch and dinner are usually eaten a little later than in the rest of Europe. Most restaurants open from 1pm to 4pm, and from 8pm until 11pm.
Shops open from 10am until 8.30pm. Most shops don"t close at lunchtime and large shopping centres can be open until 10pm.
With regard to prices, Barcelona features a wide range of accommodation, shops and services to suit all pockets. Some approximate prices in Barcelona: an espresso coffee between 1.20 and 1.50€; a lunchtime set menu can cost between 8 and 15€.
Smoking is prohibited in all bars and restaurants in Barcelona.
Electricity
The electricity supply in Barcelona is 220V/50Hz.
Electrical sockets take standard European-style two-pin plugs: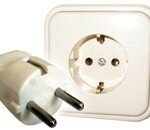 Language
The official languages of Barcelona are Spanish and Catalan.
The official language of the congress will be English.
Liability and insurance
The congress organisers will not accept liability for personal injury or loss/damage to property/belongings of participants either before, during or following the congress or their stay in Barcelona. It is therefore recommended that participants arrange their own personal health, accident and travel insurance.
Transport
Barcelona is a large city, but the modern and extensive public transport system allows you to get anywhere within the city in no time. Metro, buses and trams run very frequently until late at night. In addition to this, there are several cable cars, funiculars, railways, taxis, local trains, night buses and other transport systems.
Getting to Barcelona city from the airport:
Metro: L9 Sud
Express bus: Aerobus
Conventional bus: number 46
Night buses: Nit Bus
Getting around Barcelona:
Barcelona and its metropolitan area have a wide range of public transport options.
Metro, tram and bus are the quickest, simplest and most convenient way of getting around Barcelona. Please click below to find a map of the metro lines in Barcelona.
Time Zone
As in most European countries, in Barcelona, GMT is the time system used in Barcelona. GMT/UTC + 1h during standard time. GMT/UTC + 2h during daylight saving time.
Spain starts daylight saving time on Sunday March 27, 2016 at 2:00 a.m. local time and it ends on Sunday October 30, 2016 at 3:00 a.m. local time.
Visas
Participants are requested to check with the Spanish consulate in their home country or their travel agents for visa requirements. For any questions concerning passports and visas please visit the Ministry of Foreign affairs, https://www.exteriores.gob.es/Embajadas/seul/en/....